HAVE YOU EVER CONSIDERED WINTER RIDING?
Once the cold part of the year comes around, many New Englanders store away their bike and avoid the outdoors until spring. But have you ever considered trying out winter biking? Safely cycling in the snowy weather and terrain can bring a whole new hobby to your life. So today, CK Bikes is going over how you can use mountain bikes in Massachusetts as a way to trek outdoors this winter season.
Before we hop into how to safely ride in wintery conditions, keep in mind that your bike might not be suitable for the snow and ice. Some types of bikes are better suited for harsher weather conditions, but they're not always necessary. With a few modifications, you could be ready to roll in no time!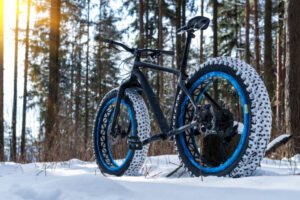 GETTING READY.
The first step to bicycling in the winter is to layer up. It's cold out there! Your body needs to stay warm to prevent injuries or frostbite. Therefore, wear multiple layers of insulating gear and warm, cozy gloves. Just remember, as you start to ride, your body will warm up. You don't want to be overly warm before you begin to ride, so if you can slightly feel the cold, that's the perfect amount of clothing!
BIKE PREP.
While you might think you need a fat bike with large tires, that's not always the case. Your Massachusetts mountain bike might just do the trick! You can slightly lower the tire pressure for extra traction or invest in a second set of wider tires. The wider the tire, the better your handling will be in the snowy, slushy conditions. Don't forget to install your fenders as well. This will keep unwanted snow and road spray off your bike and jacket!
BIKE AFTERCARE.
You know how salty the roads can get here in Massachusetts. That's why it's essential to wash off your bike after a ride on the streets. Just like your car, too much salt can rust away your chains and tire spokes, leading to unwanted damage. So prevent that with a quick spray down and scrub!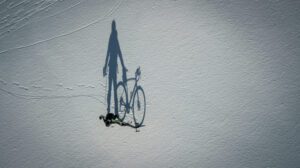 MOUNTAIN BIKES IN MASSACHUSETTS AT CK BIKES
Looking to invest in a mountain bike here in Massachusetts? With plenty of trails and terrain, it's the perfect place to park and ride. Questions about what we have in stock? Contact the experts at CK Bikes at (978) 844-7539. We're here to help with all of your biking needs!