Back view of strong male cyclist with athletic body shape riding bike at the paved road among trees and green bushes in black protective helmet and sportswear. Concept of training outdoors
Did you know that in 2018 the United Nations designated June 3rd as "World Bicycle Day?" Bikes have been an affordable source of transportation all over the world for almost two centuries! Whether you're new to the road or a seasoned cyclist, CK Bikes can assist with bicycle fittings here in MA.
HISTORY OF BIKES
Bicycles have been an affordable and reliable form of transportation for a long time. Whether it's for work or play, owning a bike doesn't have to be expensive. The use of bicycles is excellent for staying healthy, providing sustainable transportation, and providing access to the local environment. In 1817, a German baron made the first "hobby-horse" contraption. But, the modern bicycle's design was done by John Kempt Starley in 1885. The wheel and the chain-drive system he created became the template for bikes today!
A BICYCLE FITTING IN MA CAN HELP YOU RIDE BETTER.
It's easy to purchase a bike off of the internet or from a yard sale. But the reality is that not every bicycle is going to "fit" you properly. CK Bikes can assist you with a bicycle fitting to keep you comfortable and safe on Massachusett's trails or roads. We can help you set cleats and adjust seats to avoid inefficient riding and muscle pains.
MYTHS ABOUT BIKE FITTINGS
I'LL ONLY NEED TO GET A BICYCLE FITTING ONCE
False! As your skill improves and your body changes, you may need to get another fitting to ensure it's still right for you. CK Bikes can provide you with top-notch bicycle fittings in MA and keep you performing at optimal levels.
ONLY HARDCORE ENTHUSIASTS NEED BIKE FITTINGS.
False! Getting a fitting done is a good idea even for weekend hobbyists. Make sure your rides are always comfortable.
SHOULD I BUY A BIKE AND THEN BE FIT INTO IT?
False! You should make sure your bike is the correct fit before you buy it. CK Bikes has a large inventory of new and used bikes in MA. We can help you pick the right one for your purposes.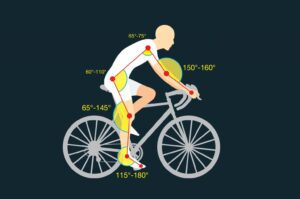 BICYCLE FITTINGS IN MA WITH CK BIKES
CK Bikes is your go-to local store for all repairs, fittings, and new or used bike purchases! It's imperative to stay safe on the road and keep your bicycle in great shape. Have a question about bicycle fittings in MA? Visit our website or give us call us at (978) 844-7539.